A lot of us hate shopping. A lot of us love shopping, perhaps a little too much, and can spend all day long running around stores trying things on or reading nutritional labels (please, someone tell me I'm not the only one who loves shopping that much!)
Whichever side we happen to fall on, as a Broke Student, we want to save money, and we want to save time. I mean, who has time to spend 3 hours in the grocery store price comparing? It's tempting to buy the more expensive option just to save time. But there are ways to save both time AND money! In this 2-part series, I will help you shave off valuable time and save precious money on your shopping trips. Part 1 will cover clothes shopping and Part 2 will cover trips to the grocery store.
Part 1: Shopping for Clothing
A lot of us may already be really good at clothes shopping. For the rest of us, here are some really good tips and tricks to keep in mind when you shop for clothing! Whether you're just looking to burn that $50 of birthday money, or you're looking for a few very specific items, these tips will help you save both time and money.
1.
Have an idea of what you want.
Even if you're just going to browse, have a few things in mind that you'd been thinking about lately. Wandering through the mall idly purchasing whatever catches your eye can often result in a really long shopping trip that ends with lot of stuff you don't really want, and thus wasted money/time. When you're on a budget, you need to purchase only things you really need, or REALLY really want. Making a mental list (or a physical one!) will help you to keep your spending in check as well as directing your trip through each store.
2.
Before your shopping trip, prepare a list of stores you will visit.
If you plan on visiting only one store, skip this step. But if you are visiting a shopping center with many stores, or are searching for an elusive item that may require visiting several stores, you will need to target your trip. I base my list on two things:
1) Which stores will have the item I want and 2) Where I can save the most money.
To create my list I typically go online and quickly google around to see if there are any sales going on at the stores I want to visit. I also look up coupons or sales promotions (Kohl's often has print-out % off coupons, for example) and bring these with me. I also check through my wallet and see if I have any gift cards still left over from the holidays. I add any stores that I can save money at to the top of the list!
3.
Dress Appropriately.
When clothes shopping, you want to wear items that fufill two requirements:
1) they are easy to remove and put back on quickly and without much effort.
D
ON'T wear anything with lots of buttons, hooks, snaps, or that takes more than 3 seconds to put on and off. Also be concious of your underwear - wear what you ordinarily wear. So don't wear a bathing suit unless you're trying on cover-ups.
2) They are items that you would wear on a typical day and items that you wear often,
such as your favorite pair of jeans if you're trying on tops, or your favorite top if you're trying on bottoms. You want to see how the item you're considering will fit into the wardrobe you already own. You don't want to imagine that something will look great with your favorite pair of jeans, only to find out at home that it doesn't; and you don't want to fall in love with an item that you need to purchase additional things to create an outfit for.
4.
Take care of your basic needs.
Don't shop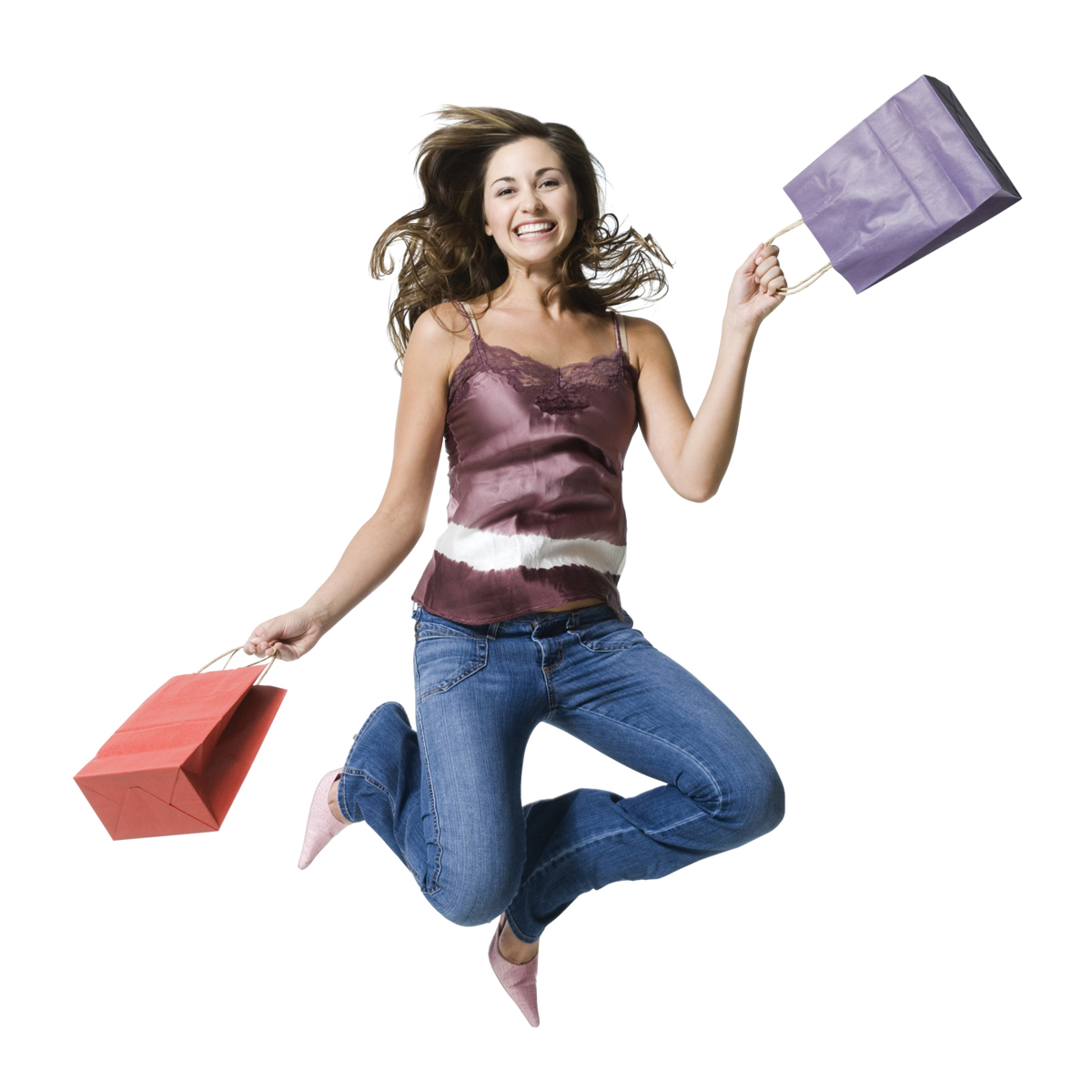 when you're hungry, thirsty, tired, or need to go to the bathroom. These things can cause you to rush through and purchase stuff you might not wear later, or worse, spend ridiculous amounts of money at the overpriced food courts nearby. Eat before you leave, or toss something into your bag to take with you. And remember, there are plenty of public bathrooms for you to use. Shopping can be exhausting and you should never torture yourself.
5.
First impressions are everything.
Once you get yourself into the dressing room, give yourself about 5 seconds after you first put on an item of clothing and look in the mirror to make a snap descision about how you feel. If any of the following phrases pop into your head:
"I love this!" "I look so good!" "This will go with _______ and _______ and I can wear it to _______."
That item is most likely a BUY.
On the other hand, if any of the following phrases pop into your head:
"I like this, but I don't LOVE it," "This is great, but it's pretty expensive" "this is just ok, but it's really inexpensive,"
then it's a "Maybe" item. Some maybe items end up being good buys, but some end up being wastes of money that sit in our closet unworn for years. We want to avoid the latter!
6.
Ask yourself the following questions before purchasing a "maybe" item:
Are there any defects in this item?

Buttons missing, broken zippers, holes, hem too short, baggy, illfitting? This is a common occurence in "maybe" items, and the majority of people should NOT get these items. Why? Because they will never fix the defect, and thus will never wear the clothing. Unless you have a history of taking a defect item home and repairing them, and have ACTUALLY done this before, don't purchase a defect "maybe" even if it is a good deal.

How many outfits can you imagine off the top of your head for this item, using your current wardrobe?

If you will need to purchase additional items of clothing in order to have even ONE good outfit, don't purchase that maybe. However, if you can come up with several different outfits that the item will fit into using clothes you already own, this might be a good buy.

Where will you wear this item? And how often?

For example, when deciding on a cute but expensive pair of jeans, consider how often you wear jeans. If you wear them almost every day, then simple math can tell you how many days you will need to wear the item to earn back its use (example: for a $70 pair of jeans, wearing them over 70 times will have earned back the item's value and thus the jeans will have essentially paid for themselves). With the exception of special occasion items like prom dresses or wedding wear, you want an item that you will wear often enough to earn back its value, and that you have places you can wear it regularly.

Is this item comfortable? Is it too tight anywhere? Can you sit down in it comfortably?

For shoes, how well can you walk in them? How well can you balance? One thing I like to do for a "maybe" item - especially shoes - is to wear the item around for several trips around the store. If I'm deciding on purchasing an expensive pair of shoes, I'll usually wear them until I'm finished shopping to make sure that they are comfortable. For clothes, I like to wear them out of the dressing room at least once - that way I can gauge how I feel walking around in the item (restricted? confident?) and get a fresh view in the mirror when I come back.

Will I miss this item if I don't buy it? This is a test I usually end up putting expensive "maybe"'s through. If I love an item and I know it isn't apt to dissapear anytime soon, I leave it in the store, go on my merry way for a while, and see if I'm still thinking about the item enough to come back and get it. This is easy on a mall shopping trip, but I recommend it even on one-store trips. Leave it for a few days. If you find yourself thinking about the item and wanting it, go back and get it.
7.
Deciding on a "maybe" item using price.
If you've gone through all of the above questions are are still indecisive about the item, name a price in your head for how much that item is worth to you - a price you would be happy to pay for it without feeling like you were ripped off. (Try not to look at the tag first, it makes this step much harder.) If the actual price of the item is significantly higher than what you came up with, don't get it.
8.
Only buy what you love.
"Maybe" rules aside, if you don't love something, you won't wear it - and spending money on something you don't wear is stupid, even if it's really cheap! (I learned this after buying a lot of random, inexpensive stuff at thrift stores that I later had to donate back to the thrift store after not wearing any of it.) Only buy stuff that you really, truly love and will wear frequently.
9.
Return policies are your friend.
Everyone makes mistakes - luckily for everyone, this is why we have return policies! Make sure you know about the return policy before you take an item home - clearance items are typically final sale. Do not rip the labels out of all your new clothes the second you take them home, and do not throw away the receipt. Give yourself a 2 week period to make sure you wear whatever you bought. If you haven't worn it by 2 weeks, you aren't going to wear it, and you need to take it back. If you wear it for a couple of hours and you feel like crap in it the whole time, you need to take it back. Do NOT return an item because you spilled something on it or ripped it - that's your fault and the retailer doesn't need to pay for your clumsiness! DO return an item if you don't wear it or don't like the way you feel in it after wearing it for a couple of hours. Remember, an item sitting unworn in your closet for months is a waste of money.
10. If you find yourself with more clothes than you know what to do with, it's time to clean out your closet. A great guide for cleaning out your closet can be found here:
Purging Your Closet
Happy shopping! Part 2 will be up soon so check back.