The Holiday season is pretty much officially here (I mean, I don't think there really is an "official" arrival time, but it seems to me that it's pretty much happening, you know? I mean, Starbucks is serving Holiday drinks now -
buy one get one fre
e, even!)! One of my favorite things about the Holiday season - aside from two weeks or so off from school -is giving my loved ones the perfect Christmas/Hanukkah/Whatever present, and with no income to speak of, that gets difficult. The following will be your How-To Guide for being able to afford this year's presents, so you can avoid that disappointed look when you give your best friend yet another knitted scarf (or is that just my friends?). I present to you (GET IT? LOL) the
Broke Student Gift-Giving Guide!
1. Before we begin, go and
enter the Broke Student Giveaway
, because you can buy lots of gifts with a $25 Gift Certificate to BuyGreen.com! Now, let's begin
. The best way to give people quality gifts is, of course, to actually spend money on them.
Which is where things get tricky, since of course,
we don't have any money.
If we did we wouldn't be reading this blog/entry. Have no fear! The Holiday season is the best time to cash in on all the hard work you've been putting into those
Paid-To sites
you signed up with months ago when I first wrote about them. (Right?!?!?! No? Ok, go sign up now, and hurry.) This month, I've cashed in a $45 check from
InboxDollars.com
, $75 in gift cards from
Swagbucks.com
, and a $50 Amazon gift card from
MyPoints.com
. For those of us who can't do math in our heads, that's a total of
$170
that I'll have to spend on gifts this year! (Of course, after I buy my boyfriend all the video games he wants, that leaves about -$10 for everyone else. Which is why this isn't the only number in this list. Moving on.)
Wrapping your gifts in newsprint gives a vintage vibe.
2. Remember
that entry I wrote about Mystery Shopping
? If not, go read it. This month alone I've earned
$114
from
Mystery Shopping,
which doesn't include payments that haven't been issued yet this month. Although some of that money is reimbursement (for things like meals I had to purchase) most of it is just income! So that brings my total Gift Budget up to
$284
! I do realize that #1 and #2 take quite a bit of planning, though, and it's kind of too late to catch up if you haven't already started with Paid-To Sites and Mystery Shopping (though do sign up now and start earning for next year!) So here's some stuff you can start doing TODAY.
3. Do you have a computer and some extra time? (Obviously you do if you're reading this, that was rhetorical.) Why not
write your favorite companies
to get some free stuff?
Sure, some of them just send coupons - but some of them send coupons for FREE products, or gift cards! Example: I had a gross muffin at Panera, so I wrote them describing in great detail the grossness of that muffin. One week later, I had a sweet hand-written card with a $10 Panera Gift Card folded inside! That gift card will be someone's Christmas present!
(Friends who are reading this: GO AWAY.)
You can write with either genuine compliments or complaints - you'll typically get a response for either, as companies are very invested in keeping their loyal customers by rewarding them for their loyalty. Some of the best companies I've had responses from are
White Castle
(coupons for 6 free burgers!) and
Starbucks
(free drink coupons!). I'd also recommend trying Panera, Kohl's, Qdoba, or wherever you shop or eat the most. Just be genuine and talk about your relationship with that retailer or company! They usually respond quickly, so you should be getting some good stuff to use as gifts before Christmas. Let me know which companies respond with the best stuff!
4. Ok, let's talk about stuff you can do RIGHT NOW. Well, maybe after a trip to the store. These are tried and true gifts that stand the test of friendship:
delicious edible gifts
. Get ready to become your circle of friends' Paula Deen.
(Yes, Paula Deen. PS, my boyfriend tried deep-frying balls of cheesecake, and apparently it was delicious and everyone loved it. So I'm not including that on the list, because gross, but technically that could be a pretty good gift. I will refer you to him if you have questions regarding anything deep-fried.)
While baking cupcakes or cookies is always nice, these edible gift ideas are simple, unexpected and cheap - plus, no baking skills required.
Super simple chocolate dipped pretzels!

Chocolate Dipped Pretzel Sticks These are super easy to

Bourbon balls or truffles are delicious simple gifts.

detailed instructions,

but it's super easy: all you do is melt some chocolate, dip a pretezel rod in that chocolate, roll it around in some toppings, and then lay it out to dry. SO FREAKING EASY. A quick Google search for "Chocolate Dipped Pretzel Sticks" turns up a million results with some great ideas about what to dip them in and how to package them nicely (I just stuck a bunch in saran wrap and tied it at the bottom with a pretty ribbon.) These are a hit with just about everyone and 1-2 bags will yield more than enough pretzels.

Chocolate Dipped Everything

Anything is better dipped in chocolate. And it's SO FREAKING EASY to dip stuff in chocolate, so why not get creative? Snag some coffee stirrers from Starbucks (free Popsicle sticks!) and stick them into

Bananas, Twinkies or Oreos

(and then dip them in chocolate, obv.) Dip some Marshmallows in chocolate and roll them in crushed graham cracker crumbs for

S'mores on a Stick.

How about

apples or dried fruit

of any kind? Plain

sugar cookies

? If you can eat it, you can dip it in chocolate. Let your inner Paula Deen go wild!

Give the Gift of Balls

There are so many kinds of balls that you can make this Holiday Season. First, watch the

SNL Shweddy Balls skit

to get you in the mood. Now that you're ready to make some balls, how about

Cake Pops

? Just bake a cake, crumble it up, mix it with icing and roll into balls that you can then dip in chocolate.

(Tip: use LOTS of icing to hold the cake crumbs together.)

Or how about

Brownie Balls

? Same idea: make brownies, crumble brownies, mix with icing, dip in chocolate! What about

Chocolate Truffles

? Truffles are easier than they look (

only 3 ingredients

,

really

!), DELICIOUS, and can be customized to just about anyone's taste. If you don't believe me,

here's a giant list

of truffle recipes. Here are some

Oreo

truffles, or perhaps you could customize your truffles with a liquor. Are you a peanut butter person? Make some

Buckeyes

! If you're from Kentucky, you've probably had

Bourbon Balls

before - did you know they're super easy to make? Here's

another recipe

to try. Make sure you have some powdered sugar or sprinkles on hand to dip all of these delicious balls into.
5. Are you over 21? If so, these gift options are for you. Alcohol makes a lovely gift. And no, we don't mean bringing over a 30-pack of Natty Light to the Christmas party. Have some class, really. These ideas will not only result in the best Christmas gifts ever, but they'll get your friends/family so drunk they won't even remember that you didn't get them anything else!
Skittles Vodka! Easy, pretty and delicious.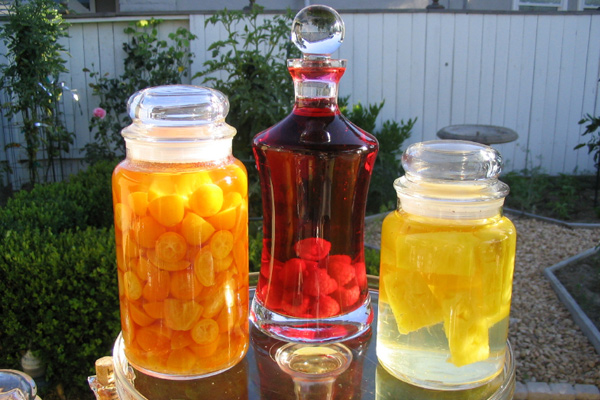 Infused Vodkas
Skittles Vodka

As easy as it sounds, this is basically vodka + skittles = delicious skittles flavored vodka!

Here's a how-to recipe.

All you do is add some color-separated skittles to some vodka and let it sit for a while. You'll need to strain the skittles chunks before you serve it to your friends, but that's pretty much the hardest thing about this super-simple gift idea. Try jazzing it up with tropical skittles for a beautiful rainbow array of flavors and colors! I'm packaging my Skittles vodka in miniature $1 wine bottles I got from Kroger, but any capped bottle or container you have will do just fine. Just remember, you'll need one container for each color/flavor. Once you've completed your Skittles vodka, mix it with some Sprite for a super easy, super delicious mixed drink!

Infused Vodkas

if Skittles don't float your boat, you can infuse vodka with a million other things, and it's really, really easy.

Here are some guidelines.

You can keep it simple (fruit + vodka, ginger root + vodka, cucumber + vodka,

Rolos + vodka...)

or make it more complex (

habanero bacon vodka

, perhaps?) Search Google or TasteSpotting.com to find some awesome recipe ideas. Just allow about a month for the infusion to penetrate the vodka.

Apple Cider Moonshine N

o, it's not really "moonshine," but it's a simplified version of this classic recipe made with straight grain alcohol such as Everclear. Before you instinctively vomit everywhere remembering the last time you had Everclear, hear me out.

Here's the recipe.

Essentially, you'll add Apple Juice to Apple Cider, boil it in a pot with a lot of sugar and a lot of cinnamon, cool it off and then add an entire bottle of straight grain alcohol. I made this last week and I can verify that it is, indeed, delicious.Your apartment will smell like apple pie and your friends will be drunkenly amazed at your skills. I bottled all of mine in leftover recycled pasta and jam jars that I intend to decorate!

Homemade Cordials and Mixers On this page

you'll find recipes for everything from homemade Irish Cream to Sweet-N-Sour Mix. Here are recipes for

Homemade Liqeuors

. There are so many options, you'll be giving alcohol gifts for YEARS to come!!
6. By now there are probably some angry freshman who want to kill me for not including any gifts that don't require a kitchen. (You can microwave the chocolate, guys.) Anyway, just to be fair, here are some gifts that DON'T require any sort of kitchen equipment!
This is my boyfriend modelling his DIY shirt.
Customized T-Shirts

Everyone loves those shirts on

Threadless

or similar. But the problem is, they cost money. Not to worry - making your own graphic t-shirts is easy and not that expensive!

Think of the possibilities: a picture of your and your friend; an inside joke; a reference to your friend's favorite movie or TV series; lyrics to your friend's favorite song; something really silly, insulting and/or dumb - there are SO many directions you could go with this. Customizing a t-shirt can be done in a few different ways: iron-on transfer paper, stick-on letters, or plain ol' paint and markers. Head to your closest craft store such as Hobby Lobby or Michael's

(be sure to search for and print out the weekly 40% off coupon first, though!)

and locate the t-shirt decorating aisle. You can buy plain t-shirts here, or you can go to Goodwill or the Salvation Army. Anyway, look for iron-on transfer paper if you want to print out an image for your shirt. You'll need access to a printer and an iron for those. If you just want words, get some iron-on or stick-on letters - you'll want stick-on if you don't have an iron. There should also be fabric paint and fabric markers - you can decorate the shirt freehand! The picture you see to the right there is actually my boyfriend modelling his creation for Minecon 2011.

Get Crafty There are lots of gift ideas that only require some basic crafty skills and materials. How about making a Reasons Why I Love You booklet? Here are some examples using a deck of cards: Example 1, Example 2. Here are some other examples: Example 1, Example 2.These make great gifts for your boyfriend/girlfriend, and are a step above a mix CD or playlist. (Not that those aren't cool too.) They'll also work for your friends! Here's another idea: make a collage using pictures of you and your friends! Just print out your favorite pictures from Facebook and paste them onto a big sheet of poster board with some cute cut-outs from magazines and quotes. Or if you're no good at collages, make a Memory Board: Cover some foam board in pretty fabric and pin ribbons criss-crossing on top of the board to make a cute way to display pictures! You can decorate it however you like, or leave it blank for your friend to customize themselves. How about making some Custom Magnets by gluing pictures or jewels onto magnet backings purchased at a craft store? There are tons of ideas out there! Here are some tutorials, some more tutorials, and a forum filled with gift ideas. Happy searching!

Salt and Sugar Scrubs are easy and make great gifts.

Bath & Beauty Gifts Bath and beauty stuff is so easy to make. Whether you purchase a melt and pour soap-making
kit at Michael's or opt for making a simple salt or sugar scrub, there are tons of ideas out there. Here are some good tutorials. Some of my personal favorites are Bath Bombs, Lip Balm or Gloss, and Salt or Sugar Scrubs. The last one is really the easiest - just mix olive oil with sea salt or sugar, and add a scent! Here are a bunch of Sugar Scrub recipes. Surprisingly, you can find good ingredients for DIY beauty projects at the Dollar Tree, including Sea Salt (food aisle), Epsom Salts (bath aisle) and scented oils (in the candle aisle)
Cute comic wrapped gifts! Great for kids.
Ok. Hopefully at least ONE of those suggestions inspired you. And remember, gift wrapping is cool and all, but recycling a brown paper bag and tying it with a pretty ribbon is cheaper, more environmentally-friendly, AND looks more unique and super classy. Or try using recycled Sunday comics papers or magazine tears! There are so many ways to give awesome gifts to your friends, but if you still can't afford any of the ideas above, don't sweat it. Your friends/family will understand and forgive you for being broke as a joke. I have a friend who is a music major, and every year she writes and performs personalized songs for her loved ones. I've received hand-made cards with heartfelt notes in lieu of gifts, and it was sweeter than any store-bought trinket. Just because you can't afford to buy *stuff* doesn't mean you can't show your loved ones that you care about them. So relax! The Holiday season is meant to be fun and enjoyable, and there are many more things to enjoy and be thankful for than giving and receiving gifts. As always, let me know if you have any questions about anything in this post, and please comment with gift ideas not listed here!
Want to know about new freebies, samples, deals and money-saving as soon as they happen? Follow The Broke Student's Guide on Facebook, Twitter and Tumblr.