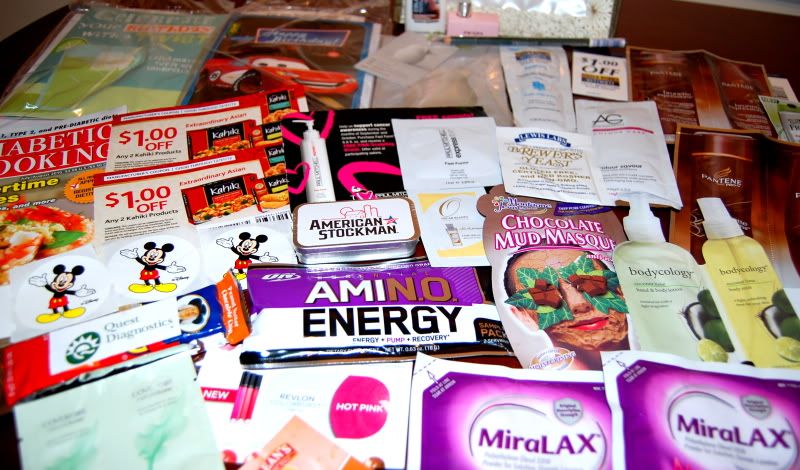 So I've been wanting to do a giveaway for a while. It's what blogs do, you know, when they have ~sponsors~ and such to give them free things to give away and it gets them all sorts of attention and whatnot. Well, good for them. I don't have any sponsors, and I haven't sold any advertising to anyone. Plus, I'm broke (you might have guessed). So I didn't know what on earth I was going to give away.

Then, it hit me. I've amassed quite a collection of stuff that I've gotten for free, and there's quite a lot of it that I just haven't used and probably won't use. So, I figured, why not give some of it away to you, my readers?

I put together a collection of brand new, unused, unopened, 100% awesome stuff that I got entirely for free

(not from a sponsor, just from the stuff I share in the blog with you!)

and I'm going to be giving it away to 1 lucky reader.

(Don't worry - with the amount of free stuff I obtain, more giveaways will absolutely occur in the future!)

Sure, whatever, it's not a $100 cookware set, or a Coach bag, but you know what? This is the Broke Student's Guide, and I'm a broke student. Maybe it's not the most amazing thing ever to be given away. But hey! When you win, you can brag to all of your friends about all the stuff you got for free. So that's cool. Also, I'm giving away a LOT of it. So there's that. Here are the goodies you'll receive: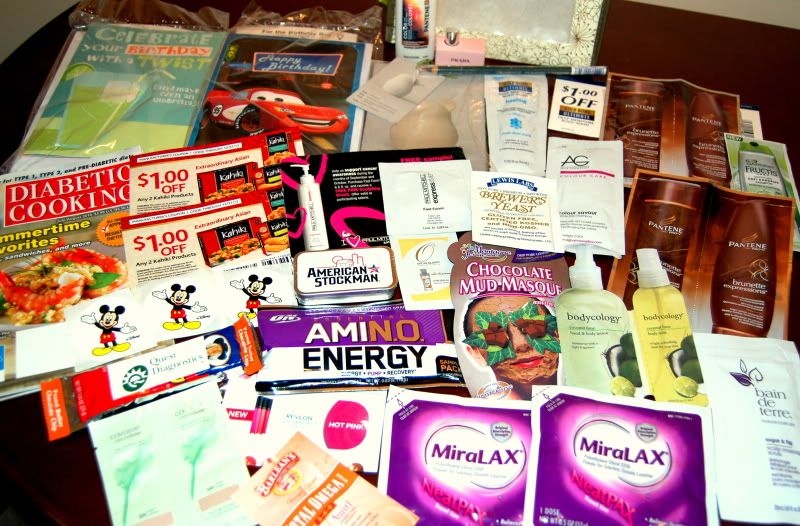 -(1) Zippered Macadamia Natural Oil Pouch (containing beauty samples)
-(2) Pantene Brunette Expressions Shampoo + Conditioner Samples
-(1) Pantene Color Preserve Shine Shampoo Sample Bottle
-(1) Bain de Terre Sugar & Fig Scalp Massage Scrub
-(1) Paul Mitchell Fast Form Cream Gel sample
-(1) Oscar Blandi Olio di Jasmine Hair Serum
-(1) Garnier Fructis Anti-Dandruff Shampoo sample
-(1) Revlon Colorburst Lipgloss sample in Hot Pink
-(1) Gold Bond Ultimate Deep Moisture Body Wash with Aloe, + $1 off coupon
-(1) Chocolate Mud Masque for anti-stress and deep pore cleansing
-(2) Cover Girl NatureLuxe foundation samples in Aspen and Maple
-(1) AG Colour Care Colour Savour sulfate-free shampoo sample
-(1) Bodycology Coconut Lime Lotion and Body Mist samples
-(1) Wet 'n Wild Eyeliner in Emerald
-(1) Prada Eau de Parfum Sample
-(1) Box of Peppermint Mints
-(2) Miralax Laxative Travel-Size Samples
-(1) Essential Amino Energy Concord Grape flavored drink mix
-(1) Total Omega 369 Swirl Orange Cream flavored drink mix
-(1) Peanut Butter Chocolate Chip Quaker Chewy Granola Bar
-(1) Packet of Brewer's Yeast
-(2) $1 off Kahiki Products Manufacturer's Coupons
-(1) Diabetic Cooking Cookbook
-(3) Mickey Mouse Stickers from Disney World
-(6) Art Postcards by ArtMind
-(2) Disney's Cars Singing Birthday Cards by Hallmark, including envelopes
-(2) "Coconut" Singing Birthday Cards by Hallmark, including envelopes


Total: 40 Items





Click the pictures to enlarge






So how can you win all this schwag? Complete one or more of the following.

Once you complete an item, post a comment on this blog post including your email address.

Each one you complete, along with each comment, equals one entry. Make sure you leave a separate comment for each entry! At the end of the giveaway, I will use a random-number generator to pick a comment at random. If yours is chosen, you will win the giveaway!

(Note: if your entry is invalid - say, you did not complete what you claimed - you will not be eligible for the prize, and a new winner will be chosen.)

You will receive entries for EACH of the following:

1. Leave a comment about your favorite entry from The Broke Student's Guide, and how it helped you save money or get something for free! Limit: (1)

2.

Follow The Blog

using either Google or Blogger. There's a "Follow" button on the right-hand side of the blog! Once you've followed, comment with your Google ID and email address. Limit: (1)

3. Follow The Facebook for (1) entry. Comment with a link to your facebook and your email address. Limit: (1)

4. Follow The Tumblr for (1) entry. Comment with a link to your tumblr and your email address. If you have multiple tumblrs, you will recieve (1) entry for EACH tumblr you use to follow the blog, up to 3. Limit: (3)

5. Follow The Twitter for (1) entry. Comment with a link to your twitter and your email address. Limit: (1)

6. Promote the giveaway on a social networking site or blog - receive (1) entry for EACH time you link to this post,
OR link to any page on the blog. Comment in this post with a link to where you promoted the blog and an email address for (1) entry per EACH link.
Limit: (2) per day.
You can copy and past the following:




Win 40 FREE samples from The Broke Student's Guide! Enter the giveaway:

http://bit.ly/kparLb




Total Entries Possible

: 9 today, + 2 per day until July 30!

What are you waiting for? Start now!

The giveaway ends on 7/30 at midnight EST.